Its 4 o'clock on Friday afternoon. Little Miss is asleep in my right arm as I type with my left hand. We've had a walk in the park, lunch with my mum and a good session with the health visitor. The sun is out and birds are flitting around the window.
Here is what is going on in my life this month. Currently I am…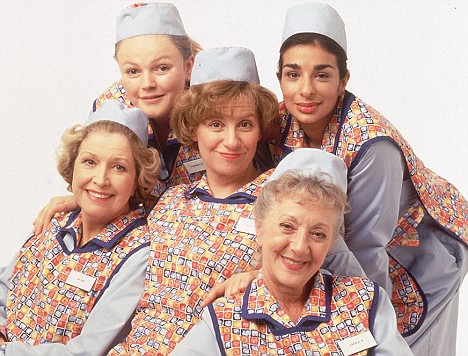 Watching Dinnerladies by Victoria Wood. I have been rewatching this very Northern and witty comedy. So much of this sitcom is spot on in its wry observations and I love how understated the drama is. It never fails to make me smile.
Reading 'The Loveliest Chocolate Shop in Paris'. Another feel good and nostalgic read from Jenny Colgan. I'm only a couple of chapters in and I'm reading slowly but I have enjoyed it so far. Not helping my chocolate cravings though! Speaking of which…
Drinking hot chocolate with all the trimmings at every opportunity. Yummy-ness every time we go out. I've stopped drinking pop whilst breastfeeding, just because I don't want to risk the caffine when every hour of sleep is precious. So my indulgent drink at the moment is hot chocolate.
Eating meals prepared by the Irish Lad. Seeing as Orla always wants feeding whenever I try to cook, Rob decided he would do all the evening meals. He's a good cook on the quiet and we have been having more varied meals since he took over.  And as we are not eating out once a week at the local pub we are probably eating much healthier over all. I am feeling spoiled!
Appreciating Spring blossom. Took this photo on Sunday when we had a nice walk along the canal. And we spotted two swans building a nest! It was so beautiful. I love that the days are getting brighter now and we can get out and about more. I am looking forward to many more sunny walks this year!
Generally things are good. I feel like we are past the intense newborn weeks and are in to a new stage. It's lovely to see my little girl interact more and more with the world around her, and we are all getting more sleep now. Yeah, sleep makes a big difference!